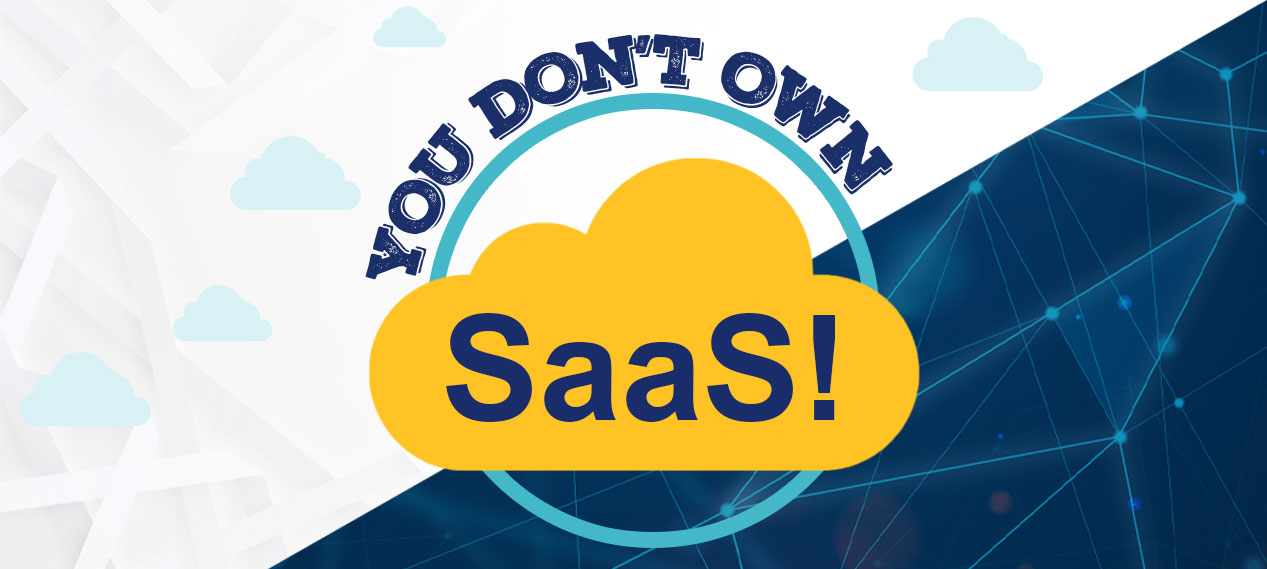 YOU DON'T OWN SaaS!
March 31, 2021
Reading Time:
10
minutes
SaaS is not for everyone, is it for your business?
Heard of or used SalesForce, Office 365, Google Apps, Dropbox and the likes of such? Well, in that case, you are already using SaaS to some respect. Software as a service (SaaS) is a software delivery model in which a third-party provider provides a fully managed application and makes them available to customers over the Internet.
You are not the only one if you have been on the fence of whether or not to adopt SaaS in your organization. The requirement for automation in business processes and the increased cost of custom development created a niche allowing many organizations to focus on one or more areas of business unit automation with out-of-the-box solution – developed, managed and maintained through a subscription based model – SaaS. This allowed organizations to quickly adopt various such tools and automate some functions of their business units in a relatively short span of time. However, this demand in SaaS products has also resulted in quite a noisy space in the cloud, where you now have many choices for ready made products available for on-demand access at a nominal cost.
This article from Computer Economics on August 2016 states that their survey resulted in a majority, 60%, of companies now report adopting at least some SaaS.
Interestingly, 73% of organizations will be using all or mostly SaaS solutions, and in fact, nearly 85% of small companies have already invested in SaaS options, according to a source.
If the adoption rate is so high, why am I writing about 'You Don't Own SaaS'? Well, let's dig deeper.
Remember that SaaS providers have spent thousands or millions of dollars in creating a software product to be used by the masses, which is what drives their revenue. Also note that this is a 'hosted' solution. This means in this model, you are paying for the software and a managed service. As long as you keep paying, you have access to the software platform. As you use the service, you are entering your business data into these systems, just like the thousands and millions of other customers. Now, have you thought of the consequences when you decide to stop paying or decide to part ways with the SaaS provider?
At this point, I am certain you understand that you do not own the software-as-a-service, you are only paying for access of the service through subscriptions. Once you stop paying, you not only stop getting to use the software anymore, most importantly, your data is now somewhere that you can't retrieve. While in most cases, the SaaS providers will give you limited time to extract data through the use of integration components or simple capabilities to export data in some manner – this now results in yet another challenge. How do you consume this data in-house in a meaningful way? You will end up hiring some developer to write code using the SaaS provider's integration components to extract your data and manage that in some form of a database of yours or in most cases, you will end up with a bunch of Excel sheets. In the end, you are left with fragmented data and a costly time consuming affair to organize the same.
Let's take this a step further. Remember the various choices you have, available in the cloud for different purposes – Sales automation, HR, Accounting, Email, Document Storage, Team Collaboration, Digital Signature, etc. Not one service provider caters to all horizontals or verticals. So, at this point, let's assume you have 5 different SaaS products in use. Since many of these products allow integration (data exchanges) between their platforms, you most likely can define your process flow in accordance, allowing you to maintain some degree of consistency and data normalization. Now try parting away from this approach and imagine what you have left at hand.
So you get the point. YOU DON'T OWN SaaS and the data you may extract may be of little value to you without spending a whole lot of money to make it meaningful.
Should I be opposed to SaaS?
Absolutely NOT! While SaaS is a great enabler, it is not meant for every business. Business requirements need be thoroughly evaluated before turning into defining a solution. So why not develop an architecture early on, that allows you to benefit from the get-go and scale up, all the while maintaining control and a balance to automation and costs.
Is SaaS right for you?
Consider some of these questions below, while making a decision:
Is it important that you not only own but control your data?

What happens if you lose access to your data?
What if the SaaS provider goes under? This market is saturated with start-ups and some will inevitably fail.

How important is security for you, such as identity management, access management?
Have you thought through Outages and/or Downtime? Despite providers' best-laid plans, outages do happen.
What are your compliance requirements?
Have you done a cost assessment in case you choose to bring this in-house at some stage?
Does it cater to your business workflows and how are you solving your custom needs? Not all SaaS products handle custom workflows.
How important is your Intellectual Property? Your change request to the provider to cater to your specific needs can result in your Intellectual Property walking away to your competitors immediately.
Sources have revealed, despite security concerns, 93% of CIOs indicate they're already adopting or are soon planning to adopt SaaS solutions.
Irrespective of the approach you wish to take, whether a single SaaS solution, a SaaS mesh (multiple SaaS products working together) or a fully custom developed solution; nothing beats a thorough needs assessment, commonly referred to as "Requirements Assessment" in the traditional Software Development Life Cycle (SDLC). I strongly believe this still holds true for every business case and imperative that you go through this.
Recommended Tools:
Microsoft Visio for more experienced users, or simply PowerPoint for less sophisticated users will do the job just fine.
Here's a brief approach to requirements assessment:
Understand the overall business goals. Take it a step further to get an understanding of the exit strategy for the business.
Interview divisional/department/business unit leaders and understand each of their requirements with priorities in order.
Create a high level map of the requirements, the business needs.
Review and fine tune this with the stakeholders.
Go deeper into each process and complete your assessment.
Finalize a comprehensive requirements document.
At this point, you should have a process model and a set of detailed requirements at hand.
Depending on the business size, or the business goals in most cases, I end up recommending businesses a hybrid approach. Recommendation includes centralizing the core of the business into a custom developed solution revolving around the various business units and their processes. Bring in SaaS products to do the front end of the work where the automated workflows are already well built, but take that data and directly feed it into you your custom in-house solution for internal processing and feed it into another system and bring the data back into your application – maintain this iterative cycle, all the while maintaining control over your architecture, data and processes. You can choose to part ways with any provider at any point and replace that with another or custom develop the required feature/ module within your application. This is a true mix of Custom Development & Integrations.
What's all this Data? Why do I need it?
At some point, you must have thought – why do I need all this data? The answer is Analytics.
The power of analytics is in data. If you do not have data, forget analytics. In its basic form, if you don't have analytics, you don't have visibility, the necessary reports, absence of which results in a complete lack of measurement of your business performance. If your data is inaccessible to you for any reason (some mentioned above), think what that does to your key performance indicators (KPIs).
Consider below a very basic diagrammatic representation of implementation of this hybrid approach.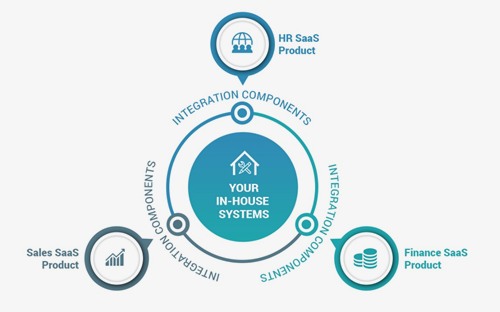 Source: Tarika Technologies, A Custom Developed Integrated Solution
If you are a business that simply does not care about the data and are only looking for an interim solution, this approach is certainly not recommended and some businesses are fine with fragmented approaches to getting the job done.
However, if you are a business, where you value your data, I would seriously consider assessing the value of this integrated approach (i.e. coupling SaaS capabilities as a part of your integrated solution). Every business is unique and needs to carefully assess a best suited route for their business. While this approach may still result in costs associated with custom development, the value add is equal or even higher.
The value-add of coupling SaaS Capabilities as a part of your integrated Solution.
Here's a few in our assessment:
Own your data
You store your data in a meaningful manner from day-one allowing you to own and control your data.
Maintain control over your infrastructure
You store your data in a meaningful manner from day-one allowing you to own and control your data.
Mitigate Risks.
Factor in contingency plan within your in-house system. You are not a victim to your SaaS provider's downtime, outages or worst case going under.
Own your Model & Retain Rights to your Intellectual Property
You designed this model, you own it and retain complete rights to your Intellectual Property. This becomes an asset for your business with its own tangible value. You also have the flexibility to change and implement new processes on demand as you grow to service your changing business needs/ requirement. Or perhaps even productize it as a solution to sell to other businesses.
Attain a higher valuation for your business.
This is your asset and provides a tangible value to potential buyers.
Am I going backwards in considering Custom Development?
I commonly hear that custom development is dead or nearing an end, when the market research shows otherwise. According to Forrester, the software industry grew at a 10% CAGR between 2011–2015 from $430b to $620b, while the custom-built software industry grew at a 33% CAGR from $43b to $136b over the same period. Today the custom software market is estimated above closer to or above $140b.
Per FORRESTER, between 2011 and 2015, custom built software industry grew at 33% from $43b to $136b.

Source: 2015 Forrester Chart
The reality is custom development is not going anywhere. The upward trend clearly shows the market demand and the growth in this market. So, NO, you are not going backwards. Consider this a shift in development paradigm. While it is custom, a lot is about integration – using specific models offered as a SaaS or more so PaaS (Platform as a service) solution and integration of the same within your custom in-house solution can:
Increases developer productivity and utilization rates while
Also decreasing an application's time-to-market.
With all the noise on the cloud and the choices available, the rapid rate of failed start-ups, I feel, it is imperative for businesses to take a step back and evaluate. Understanding clearly what is important for your business and the value you want your systems to bring to your business will help you make an informed decision. First and foremost, in your quest of a SaaS evaluation is to understand and accept that you Do Not Own SaaS.

About the Author: Sachin Agrawal, serial entrepreneur, investor, business leader, technologist, enterprise architect, founder & CEO of Tarika Group has over 20+ years of experience in building enterprise solutions for small-mid size organizations and providing virtual CIO solutions to organizations catering to a wide portfolio of industries. 
He has varied interests – from technology advisory and mentoring to making music on his guitar and is a certified scuba diver. A practitioner of martial arts, he is trained in KyuKuShin Karate, Wushu, several other forms and holds a first-degree black belt in Haidong Gumdo – a Korean way of the sword.
You can connect with him here!
Tarika Group Inc., dba Tarika Technologies, is focused on delivering innovative business solutions through Management Consulting, Managed Service Provider (MSP), Enterprise Software Development and Digital Media Solutions.
For more information on Tarika, please visit www.tarikatechnologies.com.